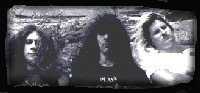 Given the good reception
the first Recalcitrance demo
got hereabouts, I thought I may as well post their second as well.
"Fragmented Realities" was recorded and released in 1990.
By this time, the band was a three piece, with Mike Smith having left to play in Deceased, bassist Billy Allen having been replaced by Chris Howard, and Mike Klein going off to do whatever it is ex-thrash vocalists do.
With them went the death metal flirtations and typical thrash metal structuring their previous demo, to be replaced with rapid-fire instrumental technicality, fluid, attention-neccessary songwriting, and a flair for experimentation with non-metal sounds.
You can get it
here
.
If you at all enjoy their material, and would like copy of one of their tapes, or you just would like to send the your regards to the members of the band, you can do so
here
.
I'm sure they would appreciate it.
-
FeatherofHuginn